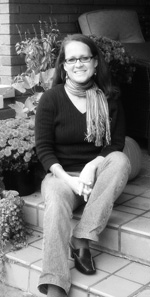 "Books have always been cherished objects in my life. When I was in elementary school, I collected the Trixie Beldon mystery books," says Deborah Zarka Miller. "I still have a few of them as artifacts of my childhood, but my parents sold most of them in garage sales when I moved on to other stories."
Miller has been reading and writing her whole life. "It is my parents' fault that I am a writer. They gave me a writing desk and a  journal as a birthday present when I was about twelve years old, and they let me choose books from the Scholastic flyer every time a teacher sent one home."
Miller's love for children's literature has persisted into her adulthood. "I still read young adult novels and buy picture books. I agree with Jerry Pinkney that children's literature does everything literature for adults does, just in fewer words.
"Most people assume the difficult part is getting an idea for a story. The ideas, the lovely dream-perfect stories in your head—those come easily. The difficult part is rendering that idea into an engaging story—getting it out of the writer's head and accessible to a reader's imagination. All the pain is in the labor, not the conception!"
Miller has invested years in pursuit of the writing craft. As an undergraduate, she studied literature at Anderson University, a Christian liberal arts college in central Indiana. Then she moved to Manhattan, Kansas to study creative writing, poetry in particular, and literature at Kansas State University. More recently, Miller completed a Master of Fine Arts in Writing at Spalding University in Louisville, Kentucky. "I have been blessed with many gifted mentors," she says. "Even in high school, I was confronted with my own writing abilities and encouraged to develop this gift. During my years in the MFA program, I studied with many gifted writers: Sena Jeter Naslund, Louella Bryant, Carolyn Crimi, Susan Campbell Bartoletti, Mary Clyde, Joyce MacDonald. These writers, and many other members of the Spalding MFA faculty, took me seriously as a writer and nurtured my craft."
These days, Miller teaches creative writing, literature, and composition at Anderson University. She writes every day, but during the academic semesters, most of her creative and intellectual energy is invested in her students' work. "During the fall and winter months, most of the writing I do is writing on my students' essays and short stories. I have to live my life in seasons because I cannot do everything passionately all at once. So August to early December and late January through April, I teach. Over Christmas break, I read like a madwoman, and then I get busy writing or revising during the summer months."
Many people demand her attention from week to week. Her three children are healthy, thriving adolescents, all engaged in sports, music and youth activities. "When I was drafting A Star for Robbins Chapel, I had to choose blocks of time during the week when I could write. The kids knew that I was not available to them during those hours. I remember telling my son, 'This is how you are helping me write this book, by staying on the other side of that door when I have it closed.' My children are smart, generous kids. They respected my writing time, but I had to keep my end of the bargain. When the time was up, I had to come out of the room and give them my full attention."
Deborah Zarka Miller writes books for many types of readers. Her non-fiction essays have appeared in several collections, including Home Again: Essays and Memoirs from Indiana, and Just Beyond the Passage. Her young adult novel, A Star for Robbins Chapel, was released by Chinaberry House in September 2010.
In this 2007 Anderson University chapel service, Miller examines the imagery and themes of loss, restoration and fullness in the Old Testament book of Ruth as she reflects on her own experiences following the sudden death of her husband in 2006. Click the link below to hear her chapel address.